Share the Lord's Supper with your Church Members
Pre filled Communion cups with wafers and juice are the easiest, healthiest way to share the Lord's Supper with your church members.
They are easy to open with no noise.
Using The Miracle Meal pre filled communion cups eliminate setup time.
The Miracle Meal Pre filled communion cups eliminates the worry of passing on germs.
Save money because you will only use what you need and won't have to throw anything away.
Store unused Communion portions for your next service because the have a long life span!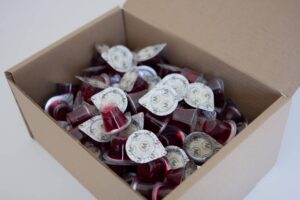 GET IN TOUCH
Office: 469.779.0147
Email:  info@themiraclemeal.com
2605 Lyndon B Johnson Fwy, Suite A, Dallas TX 75234, USA