BOX OF 250 PRE PACKAGED COMMUNION CUPS
BOX OF 250 PRE PACKAGED COMMUNION CUPS
To order visit www.themiraclemeal.com
Each serving contains:
Juice: 6 ml Sacramental juice element consist of juice made from concentrate.
Bread: The bread element consist of a round bread (wafer) made without additives. It can hold it's form well and will not crumble easily.
Both elements are automatically packed together in a clean and controlled environment prior to automatic machine sealing thus, making the Miracle Meal pre packaged communion cups safe and hygienic.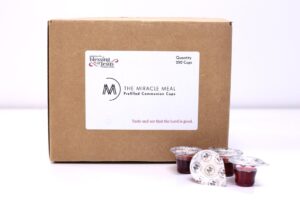 No Preparation: Two methods that we have seen work well. 1) Simply place a Pre Packaged Communion Cup on each seat in the church 2) Place a container at the entrance to the church auditorium so that the congregation can take one as they enter.
Easy to peel open: The feedback we receive mostly from users of The Miracle Meal is that they find the top film that exposes the wafer, and the middle foil seal that exposes the juice, very easy to open and also silent.
No Wastage:A huge advantage of using, The Miracle Meal pre filled communion cup is that you only use what you need for that service celebration. The rest off the pre-filled communion cups can be used on another day or at another service. The plastic cups are recyclable.