Prepackaged Communion Cups in Arizona
Prepackaged Communion Cups in Arizona
The Miracle Meal Communion Cup products use a two-seal process, with a top film with branding seal over the wafer that sits on top of a foil lid covering the container of  juice.
Though some customers use our products for hospital visits and church camps,  they are primarily used in traditional worship services, simplifying communion preparation.
We certainly think that communal meals and Communion in particular is an opportunity for us to avoid potentially infecting each other by sharing objects, much less sharing food or drink directly.
Communion is one of the times when churches can work to reduce risks of cross-contamination through what people eat or drink or through "fomites" that can transfer a virus.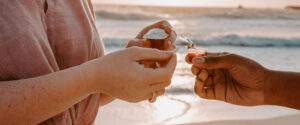 No Preparation: Two methods that we have seen work well. 1) Simply place a Pre Packaged Communion Cup on each seat in the church 2) Place a container at the entrance to the church auditorium so that the congregation can take one as they enter.
Easy to peel open: The feedback we receive mostly from users of The Miracle Meal is that they find the top film that exposes the wafer, and the middle foil seal that exposes the juice, very easy to open and also silent.
No Wastage:A huge advantage of using, The Miracle Meal pre filled communion cup is that you only use what you need for that service celebration. The rest off the pre-filled communion cups can be used on another day or at another service. The plastic cups are recyclable.
We manufacture pre-filled communion cups daily and carry stock.
Orders are dispatched within 48 hours.
Allow 1 -3 days delivery to Arizona
Tracking number will be emailed to you once shipped.